The Tailgating Dips You HAVE To Try
If you've been to a tailgate (especially one with me) you know everyone is gathered around the food table. I love a good appetizer, and I really love a good dip. Here are a few of my go-to's that are sure to make your tailgate party a hit!
TACO DIP
This is my favorite dip in the history of dips. Need I say more?

INGREDIENTS
1 block of cream cheese (8 oz)
16 oz sour cream
1 packet of taco seasoning
Taco sauce (to taste ~1/2 jar)
Tortilla Chips
Toppings
DIRECTIONS
Mix the cream cheese, sour cream, taco seasoning, and taco sauce until well blended. Move to a 9x13 in pan and spread evenly. Top with toppings of your choice- my usuals are cheese, olives, jalapeños, tomatoes, and avocado. Refrigerate for about an hour. Serve with tortilla chips and enjoy!
Cream Cheese Dip

I am all about s i m p l e, and that's what this next dip is. Sure, my husband and friends may poke fun at me when I set it on the table, but by the end of the night it's gone, every single time. Here's the perfect dip if you're short on time or can't cook, like me.
INGREDIENTS
1 block of cream cheese
Topping of choice: salsa or paper jelly
Tortilla chips or crackers
DIRECTIONS
Place block of cream cheese on a serving plate. Top with salsa or pepper jelly. Serve with chips or crackers. Serve and smile.
Funfetti Dip
If you have a sweet tooth you HAVE to try this funfetti dip! It reminds me of dunk-a-roos, but for, you know, adults.
INGREDIENTS
1 18.9-ounce box Pillsbury Funfetti cake mix
2 cups fat-free plain yogurt
1 cup Cool Whip Lite
Sprinkles
Animal crackers
DIRECTIONS
In a large bowl, mix together cake mix, yogurt, and cool whip until completely combined and there are no lumps. Cover with plastic wrap, and refrigerate for 4 hours. Garnish with sprinkles, and serve with animal crackers for dipping.
Happy football season! Oh, and GO NOLES!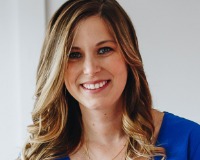 Author:
Emily Hall
Phone:
904-612-5477
Dated:
September 7th 2016
Views:
946
About Emily: ...